Please note that this policy applies to online purchases only. Please see our In-store Returns & Exchanges Policy for more information on purchases made in-store.
We're constantly checking Government updates and directives, so if an area, city or state lockdown impacts your ability to return your item, don't worry! Our 30 day returns policy remains, but we won't count the days that stores and/or post offices are closed.
Need to return your items? If you are not 100% satisfied with your purchase, you can return your item(s) within 30 days of dispatching your order, if you meet the below return conditions.*
It has been 30 days or less since the date of dispatch

It was not purchased on sale at markdown prices

The

item was not purchased at a discounted price

The

item is NOT a limited release product

In its original condition

Unworn, unmarked and unwashed

In the original packaging or box

Not defective as a result of misuse

Tags still attached
Sale, discount and limited release purchases are final and non-refundable unless deemed faulty*
Shoes must be returned in their original, undamaged shoebox. Returns cannot be sent with the shoebox taped up, written on or exposed. Please use either the original postage bag or an inside-out plastic shopping bag to protect the shoebox during transit. *

*We reserve the right to reject any returns that do not meet these requirements.

Return Options


| | | | |
| --- | --- | --- | --- |
| PAYMENT METHOD | CREDIT CARD | PAYPAL | AFTERPAY |
| RETURN ONLINE | Refund Available | Refund Available | Refund Available |
| RETURN IN STORE | Exchange, store credit or refund available. | No refund available. Exchange available for size only. | Refund available. No exchanges |
Please note that we cannot facilitate Paypal refunds in store. Online purchases using PayPal can only be returned online for a full refund. As PayPal is a heavily encrypted, secure payment method, our store systems are unable to process PayPal refunds. Please see our article on PayPal returns for more information.

You will receive one of the three Returns Policy forms in your online order, depending on the item(s) that you purchased.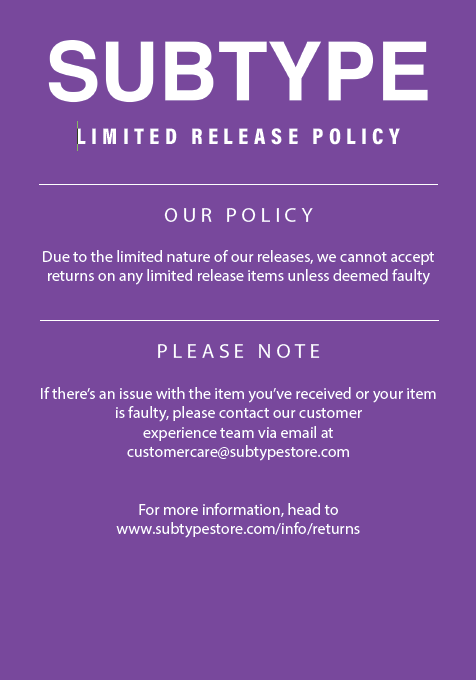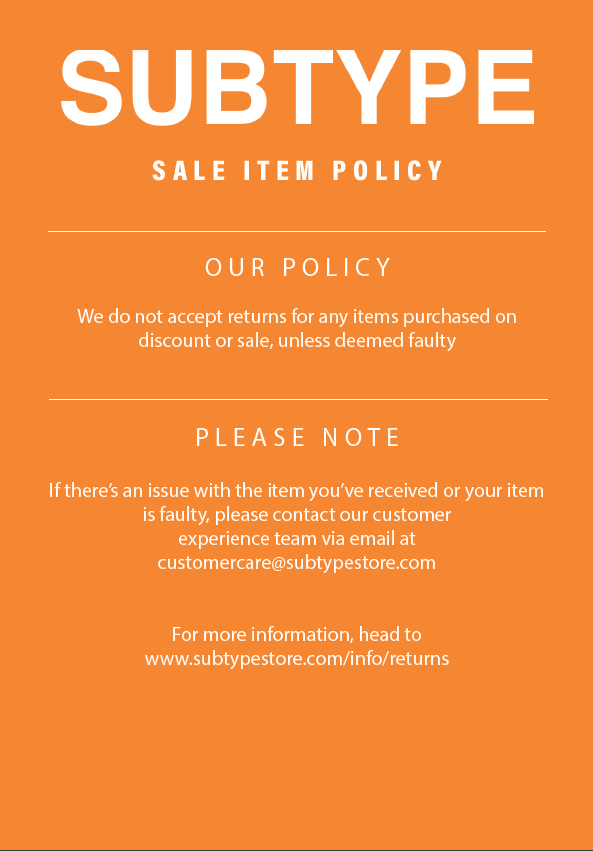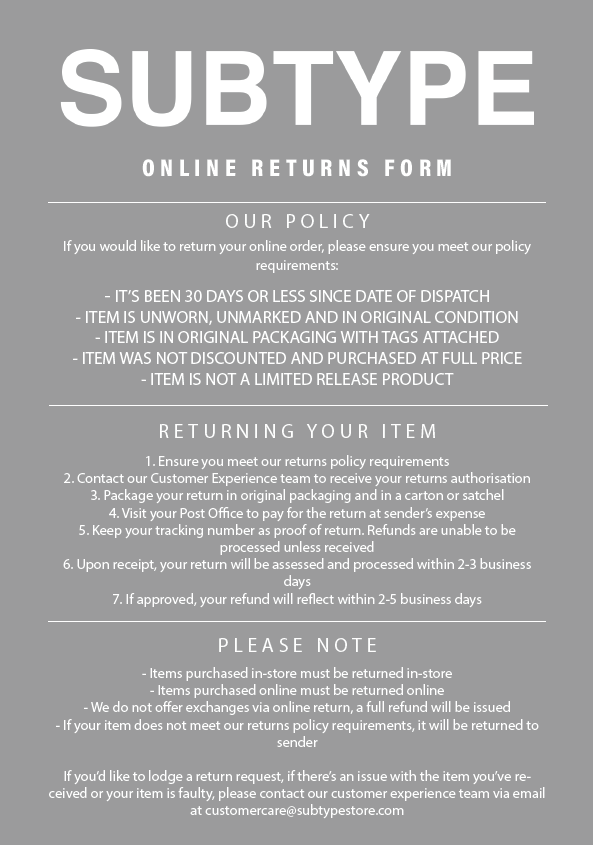 Exchanges

All online orders returned to our online warehouse will be issued a refund only. We do not offer online exchanges. If you'd like to exchange, please place a new order and return your existing item for a refund. Alternatively, you can visit our store for an exchange, provided you have met our return conditions.
Cost of returns
You are responsible for the costs of returning any item(s) to our online store unless deemed faulty. Any returned item(s) are your property and remain your responsibility until they reach our warehouse. Please ensure you retain your return tracking number as lost items will only be covered if tracking information can be provided.


Faulty items
If you believe you have received a faulty item, please do not submit a general return as our returns warehouse does not process faulty assessments. Please read about our Faulty Assessment process here.
If you believe your purchase has a manufacturing fault, we'll be happy to cover the cost of the return.
Please refer to our in-store & online faulty assessment processes for more information.